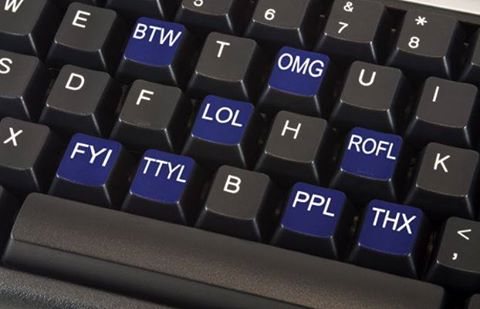 COMMON ABBREVIATONS / GYAKORI RÖVIDÍTÉSEK:
LOL = Laughing Out Loud / Hangosan felnevet
OMG = Oh My God / Te Jó Isten!
ILY = I love you / Szeretlek
IDK = I don't know / Nem tudom
TBH = To be honest / Öszintén szólva
BTW = By the way / Apropó
THX = Thanks / Köszi

JK = Just kidding / Csak viccelek
IMO = In my opinion /Szerintem, véleményem szerint
FYI = For your information / Figyelmedbe, tájékoztatásul
BRB = Be right back / Egy pillanat (és jövök)
IDC = I don't care / Nem érdekel
TGIF = Thanks God it's Friday / Hála égnek, péntek van
BFF = Best friends forever / Örök barátok
HBD = Happy Birthday / Boldog születésnapot
TMI = Too much information / Túl sok információ
NM = Not much / Nem sok
NVM = Never mind / Ne is törődj vele
OMW = On my way / Úton vagyok
TTYL = Talk to you later / Később beszélünk
AFAIK = As far as I know / Amennyire én tudom; tudomásom szerint
LMK = Let me know / Szólj
A bejegyzés trackback címe:
A hozzászólások a vonatkozó jogszabályok értelmében felhasználói tartalomnak minősülnek, értük a szolgáltatás technikai üzemeltetője semmilyen felelősséget nem vállal, azokat nem ellenőrzi. Kifogás esetén forduljon a blog szerkesztőjéhez. Részletek a Felhasználási feltételekben és az adatvédelmi tájékoztatóban.