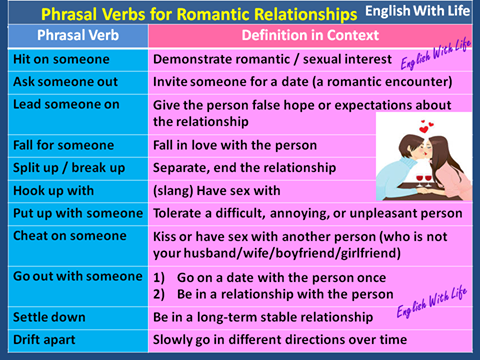 hit on someone = udvarol vkinek
ask somebody out = elhív randizni vkit
lead someone on = orránál fogva vezet vkit
fall for somebody = beleesik vkibe
split up/ break up with someone = szakít vkivel
hook up with someone = összejön vkivel
put up with someone = elvisel vkit
cheat on someone = megcsal vkit
go out with someone = 1. elmegy randizni vkivel; 2. jár vkivel
settle down = megállapodik, családot alapít
drift apart = eltávoldik vkitől
A bejegyzés trackback címe:
A hozzászólások a vonatkozó jogszabályok értelmében felhasználói tartalomnak minősülnek, értük a szolgáltatás technikai üzemeltetője semmilyen felelősséget nem vállal, azokat nem ellenőrzi. Kifogás esetén forduljon a blog szerkesztőjéhez. Részletek a Felhasználási feltételekben és az adatvédelmi tájékoztatóban.