Az OxfordDictionaries.com online szótár rendszeresen bővíti szókészletét. A szótárba került legfrissebb szavak közül találsz itt 15 új kifejezést.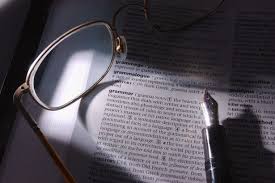 1. jel (= jealous) = féltékeny
These photos are making me jel.
2. xlnt (=excellent) = kiváló
an xlnt novel
3. tomoz (=tomorrow) = holnap
let's meet tomoz
4. IDC = I don't care = nem érdekel, nem számít
IDC what anybody says - I know what I saw.
5. duck face = kacsaszáj
The pop star pursed her lips into a duck face in one shot.
6. mahoosive = óriási, hatalmas
The screen is mahoosive.
7. shiny bum = bürokrata, hivatalnok
The shiny bums in head office were writing memos.
8. simples = egyszerű, ennyi
If you don't like the store, don't shop there! Simples!
9. al desko = étkezés az íróasztalnál munka közben (opposite of al fresco)
Workers are skipping the midday meal in growing numbers and opting to eat al desko.
10. digital footprint = digitális lábnyom( az információ, amit magánszemélyként az Interneten magunk után hagyunk az online aktivitással)
Make sure your digital footprint doesn't damage your reputation.
11. tech wreck = high-tech cégek részvényárának zuhanórepülése
Microsoft survived the tech wreck.
12. man crush = férfiak közti erős kötödés, barátság (nem szexuális)
The actor confesses to having a man crush on Clooney.
13. keyboard warrior = álnéven aggresszív, sértő megnyilvánulásokat posztoló személy az Interneten
He doesn't deserve to be vilified by keyboard warrioirs.
14. fone = a "phone" informális írása
I switched my fone to silence.
15. hawt = a "hot" szó informális írása
He might be 40, but he is still extremely hawt.
from: http://blog.oxforddictionaries.com/2014/12/oxford-dictionaries-new-words-december-2014/
A bejegyzés trackback címe:
A hozzászólások a vonatkozó jogszabályok értelmében felhasználói tartalomnak minősülnek, értük a szolgáltatás technikai üzemeltetője semmilyen felelősséget nem vállal, azokat nem ellenőrzi. Kifogás esetén forduljon a blog szerkesztőjéhez. Részletek a Felhasználási feltételekben és az adatvédelmi tájékoztatóban.