Shakespeare műveiben több mint 2000 olyan szó és kifejezés található, melyeket előtte senki nem használt.
Az alábbi táblázatban 25 olyan - a mai napig széles körben használatos - kifejezést olvashatsz, melyek mindegyikét Shakespeare-nek köszönhetünk.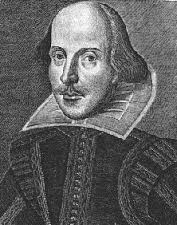 1.  "For goodness sake" - Henry VIII                Az isten szerelmére      
2. "Knock knock! Who's there?" - Macbeth      Kopp, kopp! Ki az?
3.  "Assassination" - Macbeth                          Merénylet
4.  "A heart of gold" - Henry V                        Aranyszívű
5.  "Fashionable" - Troilus and Cressida            Divatos
6.  "Dead as a doornail" - Henry VI                   Egy leheletnyi élet sincs benne
7.  "Not slept one wink" - Cymbeline                Egy szemhunyásnyit sem aludt
8. "Obscene" - Love's Labour's Lost (Lóvátett lovagok)            Obszcén

9.  "In stitches" - Twelfth Night (Vízkereszt, vagy amit akartok)   Hasát fogja nevettében
10. "Addiction" - Othello                                Függőség
11. "Naked truth" - Love's Labour's Lost        Meztelen igazság
12. "Faint-hearted" - Henry VI                        Bátortalan
13.  "Swagger" - Henry V                               Jampec
14.  "Wear your heart on your sleeve" - Othello             Ne rejtsd véka alá az érzelmeidet
15.  "Spotless reputation" - Richard II           Makulátlan hírnév
16.  "All of a sudden" - The Taming of the Shrew (A makrancos hölgy)              Hirtelen
17.  "Come what, come may" – Macbeth       Jöjjön, aminek jönnie kell
18.  "All that glitters is not gold" - The Merchant of Venice (A velencei  kalmár) Nem                                                                       minden arany, ami fénylik
19.  "Brave new world" - The Tempest (A vihar)   Szép új világ
20.  "Break the ice" - The Taming of the Shrew    Megtörni a jeget
21.  "Foregone conclusion" - Othello                    Előre eldöntött ügy
22.  "The game is up" - Cymbeline                        A játszma véget ért
23.  "Jealousy is the green-eyed monster" - Othello  A féltékenység egy zöld szemű szörny
24.  "It was Greek to me" - Julius Caesar             Ez nekem kínai volt
25.  "To be in a pickle" - The Tempest                  Pácban lenni
from:   http://www.independent.co.uk/arts-entertainment/books/news/william-shakespeares-450th-birthday-50-everyday-phrases-that-came-from-the-bard-9275254.html
A bejegyzés trackback címe:
A hozzászólások a vonatkozó jogszabályok értelmében felhasználói tartalomnak minősülnek, értük a szolgáltatás technikai üzemeltetője semmilyen felelősséget nem vállal, azokat nem ellenőrzi. Kifogás esetén forduljon a blog szerkesztőjéhez. Részletek a Felhasználási feltételekben és az adatvédelmi tájékoztatóban.