10 facts about Queen Elizabeth I (1533-1603)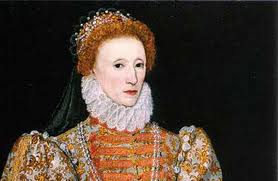 1. Elizabeth was a daughter of King Henry VIII and his second wife Anne Boleyn. 
Erzsébet, VIII. Henrik és második felesége, Boleyn Anna gyermeke volt.
2. Reigned for 45 years  and died at the age of nearly 70.
45 évig uralkodott és majd 70 éves volt, mikor elhunyt.
3. Her reign was the era of William Shakespeare's plays, Sir Frances Drake's trips to America, and the defeat of the Spanish Armada.
Uralkodása idején születtek meg William Shakespeare művei, Francis Drake eljutott az amerikai kontinensre és verességet mértek a Spanyol Armadára.
4. Queen Elizabeth I never married and never had any children. For this reason, she is sometimes known as The Virgin Queen. 
Erzsébet királynő sosem házasodott meg, gyermekei nem születtek. Emiatt kapta emlegették időnként "Szűz királynő" - nek.
5. She is sometimes pictured as wearing thick white makeup. Although this look was apparently fashionable at the time, Elizabeth did it to cover up scars left from a bout of smallpox.
Néhány festményen vastag, fehér sminkben látható. Bár ez a viselet  az ő korában igencsak divatos volt, Erzsébet elsősorban a himlő után visszamaradt hegek elfedése miatt használta ezt.
6. The coasts of North and South America were first explored during her reign.
Észak- és Dél-Amerika partjait az ő uralkodása idején fedezték fel.
7. The American state of Virginia, was in fact named after her, the Virgin Queen
Az amerikai Virginia állam a királynőről kapta nevét.
8. Elizabeth was well-educated and had a lot of hobbies, such as music, horse riding, dancing, singing and hunting. She also loved the arts, especially dramas.
Erzsébet kiváló oktatásban részesült. Számtalan hobbija volt, mint pl. a zene, a lovaglás, a tánc, az éneklés és a vadászat. Rajongott a művészetekért , különösen a drámákért.
source: http://www.tenfactsabout.co.uk/0033elizabethi.htm;  www.elisabethfiles.com; www.buzzle.com
A bejegyzés trackback címe:
A hozzászólások a vonatkozó jogszabályok értelmében felhasználói tartalomnak minősülnek, értük a szolgáltatás technikai üzemeltetője semmilyen felelősséget nem vállal, azokat nem ellenőrzi. Kifogás esetén forduljon a blog szerkesztőjéhez. Részletek a Felhasználási feltételekben és az adatvédelmi tájékoztatóban.