A McDonald's 14 év után kivonult a bolívia piacról, miután az ott élők nem vevők a "gyors"-an elkészült ételekre, helyettük inkább a saját maguk vagy az éttermekben hagyományos módon készített ételeket fogyasztják.
Az alábbiakban gyorsételekkel kapcsolatos kifejezést válogattam össze:
junk food / fast food = gyorsétel
cheeseburger = sajtburger
French fries = hasábburgonya
to eat here or to take away / to go = ittenni fogyasztásra vagy elvitelre
soda = szénsavas üdítőital
ice-cream in cone = tölcséres fagyi
tray = tálca
straw = szívószál
paper napkins = papírszalvéta
plastic utensils = műanyag evőeszközök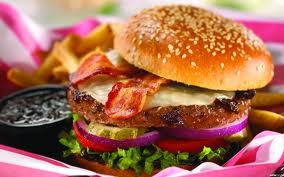 Typical conversation:
"Can I help you?"
"Yes, Can I have a fishburger with a medium French fries?"
"Certainly. Anything to drink with that?"
"I'll have a small Diet Coke"
"That's a fishburger, a medium French fries and a small Diet Coke. Would you like mayo with the burger?"
"Yes, please."
"To eat here or to go?"
"For here, please."
"That's £6.45 please"
"Here you are."
"Thanks, enjoy your meal and have a nice day!"
A bejegyzés trackback címe:
A hozzászólások a vonatkozó jogszabályok értelmében felhasználói tartalomnak minősülnek, értük a szolgáltatás technikai üzemeltetője semmilyen felelősséget nem vállal, azokat nem ellenőrzi. Kifogás esetén forduljon a blog szerkesztőjéhez. Részletek a Felhasználási feltételekben és az adatvédelmi tájékoztatóban.