A brit iskolások egy része úgy tudja, a sajt fán nő, a tészta és a kenyér húsból készül, a paradicsom termése pedig a föld alatt növekszik.
Itthon vajon milyen eredménye lenne egy hasonló felmérésnek? :)

Az eredeti cikket itt olvashatod:
Children think cheese grows on plants
http://www.telegraph.co.uk/foodanddrink/healthyeating/10095183/Children-think-cheese-grows-on-plants.html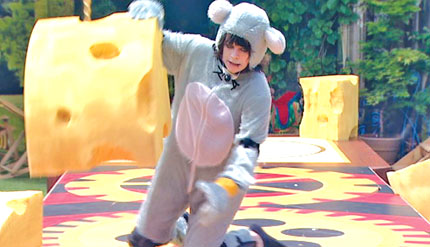 photo: www.mkweb.co.uk

Primary school children think that cheese grows on plants and fish fingers (= halrudacskák) are made of chicken, a survey (= felmérés) has found.
One in ten secondary school children think that tomatoes grow underground (=föld alatt), while with a third of five-to-eight-year-olds thought that bread and pasta are made from meat.
Despite (=vmi ellenére) a range of healthy eating campaigns, many children still do not understand what their food contains (=tartalmaz) or where it comes from, the research (=kutatás) by the British Nutrition Foundation concluded (=megállapít).
The survey of 27,500 children from across the UK, one of the largest studies of its kind, was conducted (=elkészítve) as part of the BNF's Healthy Eating Week.
Almost a third of primary school pupils thought that cheese came from plants and almost one in five under 11s thought that chicken was the main ingredient (=összetevő) in fish fingers.
Professor Judy Buttriss, head of the charity (=karitatív szervezet), said: "I guess that there are cheese plants, so maybe that is what they had in mind (=gondolni vmire)."
The survey also found that a fifth of the children said that they had never visited a farm.
Roy Ballam, from the BNF, said that at a time when obesity (=elhízottság) is soaring (=növekszik) more needs to be done to "re-engage children with the origins of food, nutrition (=táplálkozás), and cooking, so they grow up with a fuller understanding of how food reaches them and what a healthy diet and lifestyle consists of".
While there may be some confusion over the origin of food, more than three quarters of children at primary school, and almost 90 per cent of those at secondary school, were aware (=tudatában lenni vminek) that they should eat five portions of fruit and vegetables a day.
However two thirds of primary children, and 81 per cent of adolescents (=serdülők) admitted that they ate four portions or less on a daily basis.
Official guidelines (=irányelvek) also recommend that everyone eats at least two portions of fish on a weekly basis.
But 16 per cent of primary school children never eat it, and one in six of those aged between five and 16 eat the recommended amount.
Professor Buttriss told BBC Radio 4's Today programme that primary school children have a better diet than adolescents, a difference which may be attributed to the fact that parents "lose control" over what their children eat as they get older.
Around a third of teenagers do not eat breakfast, she pointed out (=rámutat, felhívja a figyelmet).
The study also found that roughly (=körülbelül) one in 10 children never cook at home, although three-quarters would like to prepare more food.
A bejegyzés trackback címe:
A hozzászólások a vonatkozó jogszabályok értelmében felhasználói tartalomnak minősülnek, értük a szolgáltatás technikai üzemeltetője semmilyen felelősséget nem vállal, azokat nem ellenőrzi. Kifogás esetén forduljon a blog szerkesztőjéhez. Részletek a Felhasználási feltételekben és az adatvédelmi tájékoztatóban.